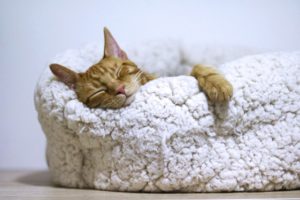 Our pets are part of the family. Regardless of your cat's age, you want to make sure your beloved kitty gets the best care possible. Cats require different types of care at different life stages. At Alexander Animal Hospital, we understand the importance of your cat getting the best care possible. Here is an overview of some of the healthcare services your cat may need throughout their lifetime.
Is Your Cat Getting Sick?
It can be difficult to tell when something is bothering your cat. It is instinctual for cats to avoid showing anything that could be perceived as a weakness, as this would make them easy targets in the wild. Even though your home is not a jungle, those protective instincts don't just go away. Cats typically have a tendency to hide when they are not feeling well. If you suspect something is bothering your cat, make an appointment with your vet.
Checkups and Preventative Care
You have an annual well visit with your general practitioner, and your cat needs to have an annual visit with your vet. For some cats, these well visits may be necessary more than once a year. Cats age much faster than humans, so they need to be seen often to make sure everything is okay.
Health and Behavior
You know your feline friends better than anyone; after all, you do live with them. One of the first indicators of something bothering them is almost always their behavior. Pay attention to how they are acting. Cats thrive on routine and are remarkably adept at telling time. If your cat isn't following his or her normal routine or is acting strangely in some other way, it may be time to schedule an appointment.
We Would Love the Opportunity to Care for Your Furry Friends!
Alexander Animal Hospital is a full-service animal hospital located in Severna Park, Maryland, serving the Severna Park, Pasadena, and Arnold Areas. Our goal is educating clients on the needs of their pets and understanding the importance of individualized veterinary care in order to strengthen the human-animal bond between owners and their pets.
We understand you have a choice when deciding on the care for your pets, and we strive to provide you with unparalleled services including wellness exams, vaccines, lost pet microchip ID, dental care, surgical services, digital radiography, and in-hospital laboratory services and diagnostics. Other highlights of Alexander Animal Hospital are the separate cat and dog waiting and exam rooms, as well as after-hours on-call emergency services.
Please take a look around our website and then give us a call at 410-777-8678 to set up an appointment.We're social! Follow us on Facebook, Twitter, and Pinterest for all the latest updates!