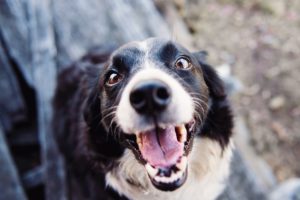 Good dental hygiene keeps you healthy. After all, dental and oral health can affect your overall wellbeing. However, dogs are not able to brush their own teeth or floss. Because of this, you must be your canine companion's dental care champion. Let's take a look at the ways you can provide excellent dental care for your dog!
Detecting Dental Concerns in Your Dog
The first trick you can try is to smell your dog's breath. We know this sounds gross, but trust us, it works. Morning breath affects your pets just as badly as it can affect you. Plaque deposits can turn into tartar if they are left unaddressed, and cavities can form even without candy consumption. Tooth sensitivity and tooth decay can make it hard for your dog to eat. These dental conditions are significant in their own right, but they can also indicate that something is wrong with your pet's overall health.
Watch Out for Other Conditions
Now that you know what to do, be on the lookout for other problems. Think about all of the ways you know it's time to visit the dentist – chances are good the same concerns will be an issue for your dogs as well. Do they stop chewing their food? Does eating make them cry? Do you notice swollen gums or loose teeth? These signs all tell you that your dog needs urgent medical care.
Make Good Dental Care Habits a Routine
Your pets will keep you on a routine. Set a good example for them as you would with your human kids. Dental treats improve death breath and help strengthen teeth. Buy chew toys that also double as toothbrushes, even if they are a little bit more expensive. Sometimes, you'll just need to grab a spare toothbrush and scrub your puppy's teeth for them. They may not like it now, but they'll appreciate it in the long run!
We Would Love the Opportunity to Care for Your Furry Friends!
Alexander Animal Hospital is a full-service animal hospital located in Severna Park, Maryland, serving the Severna Park, Pasadena, and Arnold Areas. Our goal is educating clients on the needs of their pets and understanding the importance of individualized veterinary care in order to strengthen the human-animal bond between owners and their pets.
We understand you have a choice when deciding on the care for your pets, and we strive to provide you with unparalleled services including wellness exams, vaccines, lost pet microchip ID, dental care, surgical services, digital radiography, and in-hospital laboratory services and diagnostics. Other highlights of Alexander Animal Hospital are the separate cat and dog waiting and exam rooms, as well as after-hours on-call emergency services.
Please take a look around our website and then give us a call at 410-777-8678 to set up an appointment.We're social! Follow us on Facebook, Twitter, and Pinterest for all the latest updates!