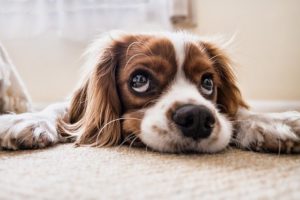 You've probably seen it often: dogs and cats can't be friends or roommates. Even so, after a while, they will get used to each other being around all the time. At some point, you might catch your dog attempting to eat your cat's food. The question is, is this safe? Here are some answers to that question!
Nutritional Needs
Cats and dogs have different nutritional needs. As such, their foods are formulated in very different ways. As carnivores, cats need to eat meat, while dogs are actually omnivores, which means that their diets don't need to be as restricted – they can eat veggies too. Cat food has much more meat-protein in it, which is why your dogs are so interested in it if your cat doesn't eat it quickly enough!
Complicated Conditions
Still, some complications are bound to arise. Dogs can, theoretically, eat cat food and be fine. That said, you should still discourage this behavior as it's not healthy for them to do it. Complications include upset stomachs, obesity, and pancreatitis. Your dog might be lethargic, stop eating, vomit, and have bouts of diarrhea as well. High levels of cat food can also damage the liver and kidney, both of which are harder to detect without an ultrasound procedure or the expert opinion of a veternarian who knows what to look for when it comes to pet health.
What Happens Now?
You might be wondering what happens next. If your dog shows symptoms of being sick, then call your vet right away. Other tricks you can try include moving where the cat food is dispensed or stored – having an automatic feeder is convenient, but it's also an obvious target!
We Would Love the Opportunity to Care for Your Furry Friends!
Alexander Animal Hospital is a full-service animal hospital located in Severna Park, Maryland, serving the Severna Park, Pasadena, and Arnold Areas. Our goal is educating clients on the needs of their pets and understanding the importance of individualized veterinary care in order to strengthen the human-animal bond between owners and their pets.
We understand you have a choice when deciding on the care for your pets, and we strive to provide you with unparalleled services including wellness exams, vaccines, lost pet microchip ID, dental care, surgical services, digital radiography, and in-hospital laboratory services and diagnostics. Other highlights of Alexander Animal Hospital are the separate cat and dog waiting and exam rooms, as well as after-hours on-call emergency services.
Please take a look around our website and then give us a call at 410-777-8678 to set up an appointment.
We're social! Follow us on Facebook, Twitter, and Pinterest for all the latest updates!