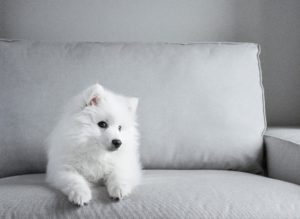 Pet behaviors of all kinds can confuse their human parents. Let's face it: cats are weird. Especially when they are kittens. But young pups are just as clumsy and curious. Every doggo is a good doggo – but puppies are unpredictable. That's why proactive and prudent puppy care is so important. You want to keep them safe, even more so when they don't understand the world around them. 
Why Are They Instinctively Driven This Way?  
Quite simply, puppies are baby dogs. Think about your own human babies – they want to experience everything as they learn to understand what their senses tell them. The same principle applies to your fur children as well. Puppies don't have hands and fingers, let alone opposable thumbs. What is a pupper to do? They use their mouths instead. Soon enough, they'll get the hang of eating the kibble and wet food you give them. Plus, they'll probably pick up the habit of begging for your food or insisting on licking empty plates and bowls. When it's time to go outside for a walk, though, you've got to watch them even more carefully. 
Pay Attention to What They're Trying to Eat 
Pay close attention to what your puppies are attempting to swallow. Rocks, sticks, tree bark, trash, and food scraps are all fair game to them. Sometimes, they'll even pick up noisy bugs but be too afraid to gulp them down. So if you notice a suspicious buzzing noise coming from their mouths, cautiously open their jaws to see what they have! 
What Else Should You Know About Responsible Puppy Care?
Fortunately, puppies are relatively easy to train. They're quick learners and will surprise you how adorably quickly they learn tricks and other behaviors like lifting a paw to get a treat. Eventually, your puppy will outgrow the phase where everything is food. Grass and weeds aren't very harmful. But if they start whining, crying, or vomiting, rush them to the vet or animal hospital, stat!
We Would Love the Opportunity to Care for Your Furry Friends!
Alexander Animal Hospital is a full-service animal hospital located in Severna Park, Maryland, serving the Severna Park, Pasadena, and Arnold areas. Our goal is to educate clients on their pets' needs and understand the importance of individualized veterinary care to strengthen the human-animal bond between owners and pets. 
We understand you have a choice when deciding on the care for your pets. Therefore, we strive to provide you with unparalleled services, including wellness exams, vaccines, lost pet microchip ID, dental care, surgical services, digital radiography, and in-hospital laboratory services and diagnostics. Other highlights of Alexander Animal Hospital are the separate cat and dog waiting and exam rooms and after-hours on-call emergency services.
Please look around our website and then give us a call at 410-777-8678 to set up an appointment. We're social! Follow us on Facebook, Twitter, and Pinterest for all the latest updates!