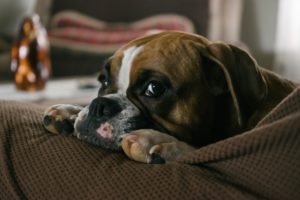 If your dog is an anxious creature, there are many ways you can comfort them. Separation anxiety is a common problem for many people, no matter how old they are. Younger pets and children will definitely feel this even more profoundly because they haven't developed object permanence yet. That's why even when you leave for an hour for your dog, it feels like you've been gone for ten years. When they can't see you, then they start to worry about you while you're not around. Here's a quick guide to how you can help your dogs cope with their separation anxiety!
What Does Separation Anxiety Mean for Dogs? 
Do you ever feel frantic and distressed? Well, that is what your dog goes through when they are parted from you – and multiple dogs mean more nervousness. However, always remember that they aren't acting out to be disobedient or spiteful; they're only trying to express how upset they are. 
Some Signs of Anxiety 
You'll know that your dogs are starting to get anxious because they won't be too subtle about it. For instance, they will start drooling, barking, howling, trembling, and pacing. They'll also ignore their food and start to wreck the furniture. Of course, cats can exhibit this behavior, too, but it'll manifest differently!
And Potential Triggers for This Reaction 
Changes in pet parents can confuse and scare your doggos. Getting them socialized takes a while, too. If they are somewhere unfamiliar, it could make their anxiety worse as well. Neglect, the death of a pet friend or sibling, and boredom don't help either. 
Change Your Routines for Leaving  
So if you'd like to deflect the anxiety, start by changing your rituals. In other words, change your routines for when you are heading out. Other ideas include going in and out through a different door than normal or sitting down after putting on your coat for the next 10-15 minutes. Then put your keys/wallets/purses/hats/shoes/whatnot someplace else. This hopefully means that they don't form negative associations and get sad or mad that you're going off on an adventure without them! 
We Would Love the Opportunity to Care for Your Furry Friends!
Alexander Animal Hospital is a full-service animal hospital located in Severna Park, Maryland, serving the Severna Park, Pasadena, and Arnold areas. Our goal is to educate clients on their pets' needs and understand the importance of individualized veterinary care to strengthen the human-animal bond between owners and their pets.
We understand you have a choice when deciding on the care for your pets. Therefore, we strive to provide you with unparalleled services, including wellness exams, vaccines, lost pet microchip ID, dental care, surgical services, digital radiography, and in-hospital laboratory services and diagnostics. Other highlights of Alexander Animal Hospital are the separate cat and dog waiting and exam rooms and after-hours on-call emergency services.
Please take a look around our website and then give us a call at 410-777-8678 to set up an appointment. We're social! Follow us on Facebook, Twitter, and Pinterest for all the latest updates!