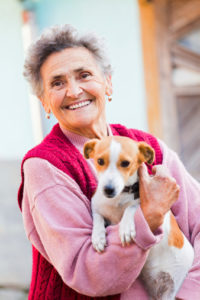 It can be hard to accept that we all get old. It's something that we all worry about, whether or not we are consciously aware of it. As for your dog? The older they get, the more the way they perceive the world changes. Have you noticed that your senior dog is barking much more frequently (and more loudly) than they used to do? Or that they don't respond when you talk to them? These are two signs they might be struggling with hearing loss, along with a much lower startle point. 
Common Causes and Symptoms 
At some point, the nerves inside the ears begin to degenerate. Hearing loss in elderly dogs works the same way it does for older humans. But it's important to note that hearing problems are not exclusive to the elderly – anyone can have them, no matter how old they are, and it can be from birth or induced by other means. Maybe they can't hear when you squeak a toy or pick up their leash. Keep an eye on them when they nap – if they used to be a light sleeper but sleep more heavily now, that's not a good sign, either. 
Try Changing How You Communicate 
If you believe your senior dog is losing their hearing, it's time to go to the veterinarian. The vet can give an accurate assessment and diagnosis of what is wrong. In the meantime, pair hand signals with verbal cues. You'll need to teach them new cues, especially unfamiliar ones. Emergency whistles can also help, but they're extremely loud. They might bother you, too. Training your dogs to understand what a vibration collar does will also make a theoretically positive difference.
Adjust Your Routine and Lifestyle 
Just because your dog is hearing-impaired doesn't mean they aren't listening or that they don't love you anymore! It's a normal, if sad, part of life. Everyone can go deaf. Food rewards such as tasty treats can help get them acclimated to their new reality. This change also means you'll have to adjust your daily routine. When you're outside, don't let them off their leash. Even if you're in a relatively safe and enclosed space (like the dog park), it could still be risky for them to move around. Blindness often happens in tandem with deafness, so that's another aspect of dog care (and cat care too) that you should learn about and help your canine companion cope with better!
We Would Love the Opportunity to Care for Your Furry Friends!
Alexander Animal Hospital is a full-service animal hospital located in Severna Park, Maryland, serving the Severna Park, Pasadena, and Arnold areas. Our goal is to educate clients on their pets' needs and understand the importance of individualized veterinary care to strengthen the human-animal bond between owners and pets. 
We understand you have a choice when deciding on the care for your pets. Therefore, we strive to provide you with unparalleled services, including wellness exams, vaccines, lost pet microchip ID, dental care, surgical services, digital radiography, and in-hospital laboratory services and diagnostics. Other highlights of Alexander Animal Hospital are the separate cat and dog waiting and exam rooms and after-hours on-call emergency services.
Please look around our website and then give us a call at 410-777-8678 to set up an appointment. We're social! Follow us on Facebook, Twitter, and Pinterest for all the latest updates!