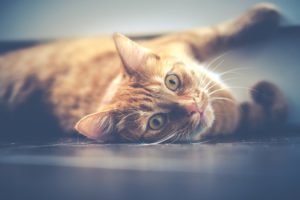 Have you ever wondered if your cat is allergic to you? Some cat owners might be mildly allergic to their feline friends. The thing is, they might not know unless they pet their kitty and then rub their eyes, getting some of the fur dander in there. Even though some cats are considered "hypoallergenic," they can still bother you. What about the situation in reverse, though? We present to you a deep dive into common pet allergies. This time, we're talking about cats. 
Fleas 
Fleas are bothersome for humans and animals alike. Flea infestations cause the most frequently-seen allergic reactions in cats. It's the saliva that's the real problem, not just the little pests clinging onto our felines. You'll notice small bumps (inflamed nodules) on their backs. How else can you identify the presence of these hard-to-see parasites? Your cat will be licking the same spot over and over again. Bacterial or fungal infections will only make them even more miserable.  
Their Environment 
Do you hate ragweed season? Pollen, ragweed, dust, and dirt are other common allergens that affect humans. It should come as no surprise that they'll bother your cat overlords and queens. Beyond pollen and dust mites, mold spores and cat litter scents can irritate your cat as well. Be careful about the perfumes, essential oils, and household cleaners you use – they might make your cat sick. For that same reason, be VERY careful about where you place houseplants and other kinds of pet food because they might be toxic to your curious cats. 
The Food You Give Them 
Food-related pet allergies (even mild ones) can be a stubborn source of discomfort. They could come out of nowhere (for instance, people can develop a gluten sensitivity even if it wasn't a problem until now). This sudden onset brings with it unpleasant side effects such as persistent itching, vomiting, and diarrhea. Some of the food items that can upset your cat's tummy the most are beef, wheat, and dairy products. 
We Would Love the Opportunity to Care for Your Furry Friends!
Alexander Animal Hospital is a full-service animal hospital located in Severna Park, Maryland, serving the Severna Park, Pasadena, and Arnold areas. Our goal is to educate clients on their pets' needs and understand the importance of individualized veterinary care to strengthen the human-animal bond between owners and pets. 
We understand you have a choice when deciding on the care for your pets. Therefore, we strive to provide you with unparalleled services, including wellness exams, vaccines, lost pet microchip ID, dental care, surgical services, digital radiography, and in-hospital laboratory services and diagnostics. Other highlights of Alexander Animal Hospital are the separate cat and dog waiting and exam rooms and after-hours on-call emergency services.
Please look around our website and then give us a call at 410-777-8678 to set up an appointment. We're social! Follow us on Facebook, Twitter, and Pinterest for all the latest updates!