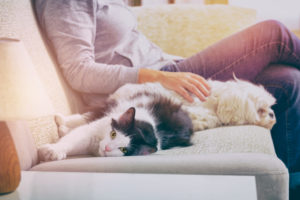 Do your pets love going outside? Whether it's for a stroll to the dog run or they enjoy frolicking in the sun, every pet is different. Cats and dogs can be explorers or homebodies. It all depends on their temperament, their pasts, and how adventurous they are. One hazard of going outside, though, is picking up fleas. Fleas are parasites, and they affect humans as well as pets. How can you keep everyone in your home safe? Allow us to explain and reassure you!
Keep Applying Fresh Flea and Tick Medicine 
Perhaps the simplest way to keep your furry friends safe is to apply flea and tick repellent. This medicine needs to be applied throughout the year and not just in the summertime. Fleas and ticks like to hide inside your home. Consult your vet about which medications are the best ones if you're not sure about which one to pick.   
Get Rid of Expired Products 
We also suggest that you dispose of expired flea and tick products. If they're too old, they're not as effective. Again, you'll want to speak to your veterinarian. They can tell you more about the newest brands and products that are commercially available. Killing off fleas and ticks isn't that hard to do, but you'll want to exercise some caution. 
Don't Use Dog Preventatives on Cats 
It's easy to assume that preventative products meant for dogs will work on cats, too. That's a simple misconception. Don't use dog preventatives on cats. The flea and tick medicine that is used to treat dogs is harmful to cats. If you do this, your cat is liable to have a severe allergic reaction. At that point, you'll need to rush them to the animal hospital.  
Check Your Pets for Ticks 
Fleas and ticks bother humans and animals alike. Be very careful when you check yourself for ticks – they may have already bitten you. Meanwhile, make sure you check your cats and dogs, too. Pay particular attention to skin, ears, and armpits. 
Groom Your Pets More Often 
Groom your pets! Even if they struggle, fidget, or squirm while you do it. Keep calling them "good boys" and "good girls" because this will encourage them to sit still while brushing them. Likewise, bathtime isn't exactly fun for them, but it's still important to do! 
We Would Love the Opportunity to Care for Your Furry Friends!
Alexander Animal Hospital is a full-service animal hospital located in Severna Park, Maryland, serving the Severna Park, Pasadena, and Arnold areas. Our goal is to educate clients on their pets' needs and understand the importance of individualized veterinary care to strengthen the human-animal bond between owners and pets. 
We understand you have a choice when deciding on the care for your pets. Therefore, we strive to provide you with unparalleled services, including wellness exams, vaccines, lost pet microchip ID, dental care, surgical services, digital radiography, and in-hospital laboratory services and diagnostics. Other highlights of Alexander Animal Hospital are the separate cat and dog waiting and exam rooms and after-hours on-call emergency services.
Please look around our website and then give us a call at 410-777-8678 to set up an appointment. We're social! Follow us on Facebook, Twitter, and Pinterest for all the latest updates!