You always want the best for your pets. That's why it's so frightening to see them acting out of character. If they don't eat as much, start showing signs of weight loss, or are excessively fatigued, then these are good indications that something is wrong: it could be heartworm.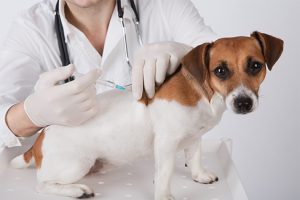 Coughing That Won't Go Away
Coughing and sneezing are usually signs of allergies or maybe a cold. The thing is, these conditions are only temporary. Be on the lookout for persistent coughs that won't go away.
Acting Lethargic
Fatigue isn't a good thing for anybody. Even if your pup was previously cheerful and active, heartworms can take their energy away. Let's say they love going for walks or hikes – maybe they're not keen on it anymore.
Losing Weight
Abnormal weight loss could be another sign of heartworm presence. Dogs like to eat on a certain schedule, and also enjoy getting snacks or nibbles of human food throughout the day. But not being able to eat can lead to rapid weight loss.
Trouble Breathing
Trouble breathing is a cause for alarm. It might not always be due to allergies, either – it could very well be a sign of heartworm infection. It looks and sounds like an asthma attack caused by fluid building up. The fluid clogs the blood vessels in the lungs, making it harder for the lungs to oxygenate the blood passing through them.
Ribs Bulging
Fluid buildup in the lungs isn't healthy for anybody, pet or human. One sign of this happening is when your dog's chest begins to stick out, almost as if the ribs are unusually bulging. This condition is caused by rapid weight loss. The fluid buildup can also come as a response to the presence of the heartworm.
We Would Love the Opportunity to Care for Your Furry Friends!
Alexander Animal Hospital is a full-service animal hospital located in Severna Park, Maryland, serving the Severna Park, Pasadena, and Arnold Areas. Our goal is educating clients on the needs of their pets and understanding the importance of individualized veterinary care in order to strengthen the human-animal bond between owners and their pets.
We understand you have a choice when deciding on the care for your pets, and we strive to provide you with unparalleled services including wellness exams, vaccines, lost pet microchip ID, dental care, surgical services, digital radiography, and in-hospital laboratory services and diagnostics. Other highlights of Alexander Animal Hospital are the separate cat and dog waiting and exam rooms, as well as after-hours on-call emergency services.
Please take a look around our website and then give us a call at 410-777-8678 to set up an appointment.
We're social! Follow us on Facebook, Twitter, and Pinterest for all the latest updates!