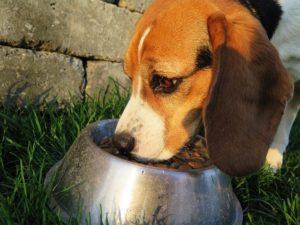 Most dogs eat the same meal, or multiple meals, every single day. For us humans, that would get super boring after a couple of days. Our dogs, however, devour it without complaint. When we eat too quickly, it can cause indigestion. The same goes for dogs. When you feed your dog their next meal, watch them for a minute. Do they seem to have it all down in a couple of bites, or do they take their time? If your dog is eating too quickly, it can be indicative of a problem.
Nutritional Deficits in Dog Food
Unfortunately, not all dog food brands are created equal. Also, a food brand that works well for a bunch of dogs may not be a great fit for others. It may take a bit, but it is worth doing some research, shopping around, and trial and error to find a good, nutritionally complete diet for your furry friend. Eating too fast can be because your dog is super hungry, due to their food not keeping them satisfied between meals. The right diet will keep your pet full and happy until it's time to eat again.
Competing with Another Dog
Another common reason a dog is eating quickly could be because of competition, whether with another dog in their home or unwanted behavior from being a stray. This competition is particularly common in pups that were strays. As a stray, they had to eat fast if they wanted to eat, and sometimes that behavior persists long after they've found their forever homes. Fortunately, there are many products on the market to help them slow down their eating, so they don't make themselves sick. Talk to your vet about the best solution for your pet!
We Would Love the Opportunity to Care for Your Furry Friends!
Alexander Animal Hospital is a full-service animal hospital located in Severna Park, Maryland, serving the Severna Park, Pasadena, and Arnold Areas. Our goal is educating clients on the needs of their pets and understanding the importance of individualized veterinary care in order to strengthen the human-animal bond between owners and their pets.
We understand you have a choice when deciding on the care for your pets, and we strive to provide you with unparalleled services including wellness exams, vaccines, lost pet microchip ID, dental care, surgical services, digital radiography, and in-hospital laboratory services and diagnostics. Other highlights of Alexander Animal Hospital are the separate cat and dog waiting and exam rooms, as well as after-hours on-call emergency services.
Please take a look around our website and then give us a call at 410-777-8678 to set up an appointment.
We're social! Follow us on Facebook, Twitter, and Pinterest for all the latest updates!