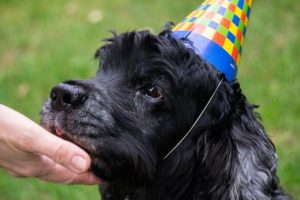 There are many exciting occasions in life, such as birthdays. You can celebrate your pet's birthday, and their half-birthday, just as you would with the people you love. But what's a gotcha day? It's the day you brought your pet home and accepted them into your little family. Here are some ways to mark it!
Treats!
Everybody loves treats! So do your pets. For their gotcha day, give them an extra-special meal or super-duper treat. You can bake them a cake or give them some homemade ice cream that has ingredients safe for them to eat. You can also buy their favorite treat from the store, and letting them play taste-tester is another fun way to reward them for being their adorable and cuddly selves!
Let Them Pick a Present
Another idea is to let your fur-child pick out a present for themselves. This is a tad different than letting. This may be a bit unusual since obviously they can't talk but it's still a fun way to celebrate a gotcha day. Take your cat or dog to the pet store. There, they can pick out what they want to have – just keep in mind that your dog is much more likely to want to go for a field trip than your cat!
Spend Quality Time with Them
Finally, just spend some quality time with them. Keep on building that special bond between you and your pet. Tease your cat with a teaser toy and help get them to be a bit more active! You can also play fetch with your dog for longer than you usually would, especially if they love to tug and chase toys. Might we suggest a longer walk than usual? Some oddball cats might like to prowl outside beyond your backyard as long as they consent to be on a leash!
We Would Love the Opportunity to Care for Your Furry Friends!
Alexander Animal Hospital is a full-service animal hospital located in Severna Park, Maryland, serving the Severna Park, Pasadena, and Arnold Areas. Our goal is educating clients on the needs of their pets and understanding the importance of individualized veterinary care in order to strengthen the human-animal bond between owners and their pets.
We understand you have a choice when deciding on the care for your pets, and we strive to provide you with unparalleled services including wellness exams, vaccines, lost pet microchip ID, dental care, surgical services, digital radiography, and in-hospital laboratory services and diagnostics. Other highlights of Alexander Animal Hospital are the separate cat and dog waiting and exam rooms, as well as after-hours on-call emergency services.
Please take a look around our website and then give us a call at 410-777-8678 to set up an appointment.
We're social! Follow us on Facebook, Twitter, and Pinterest for all the latest updates!