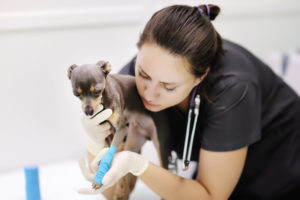 Hello there once again! Last week, we discussed some of the great reasons to consider when you're looking for a job. Becoming a veterinarian is one of the most fulfilling career paths you could ever choose. Animal lovers will definitely come to find out just how exciting and rewarding this adventure can be. So even though it calls for plenty of academic success and hard work, in the end, you know it'll all be worth it!
Start Your Own Practice 
After you've built up some experience, you'll have the opportunity to grow. What does this mean precisely? One option to explore is starting your own veterinary practice. Before you can do that, though, you must learn the ropes first. At some point, you could be promoted to operating partner in the clinic where you are based. This advancement typically happens when expansion is on the horizon or when a senior colleague is about to retire and wants you to be their successor. 
Always Something New to Learn 
Learning never stops. A person's education isn't bound to what they studied in school. When you work as a veterinarian, there's always something else that you can learn about and incorporate into your own best practices. Without completing the "continuing education" requirement, you won't be able to recertify or renew your license to practice medicine. Besides, new techniques and innovations are always coming along. Do your best to stay at the top of your game.
Other Potential Roles Await You  
Your veterinary background will serve you well. That's because other related organizations will eventually come calling; they'll be looking to hire you. Some potential employers include veterinary pharmaceutical companies, feed production companies, wildlife agencies, labs, schools, and even the military. 
There is a Vibrant Professional Community 
One of the biggest draws, especially for extroverted veterinarians, is a broad and welcoming professional community. Vet techs, kennel attendants, and office staff could become possible coworkers and even friends. 
It's the Job of Your Dreams
Take a few minutes to recall what you wanted to do when you were a child. Was taking care of animals a cherished wish of yours when you were a kid? In that case, becoming a veterinarian could be the culmination of a lifelong dream.
We Would Love the Opportunity to Care for Your Furry Friends!
Alexander Animal Hospital is a full-service animal hospital located in Severna Park, Maryland, serving the Severna Park, Pasadena, and Arnold areas. Our goal is to educate clients on their pets' needs and understand the importance of individualized veterinary care to strengthen the human-animal bond between owners and their pets.
We understand you have a choice when deciding on the care for your pets. We strive to provide you with unparalleled services, including wellness exams, vaccines, lost pet microchip ID, dental care, surgical services, digital radiography, and in-hospital laboratory services and diagnostics. Other highlights of Alexander Animal Hospital are the separate cat and dog waiting and exam rooms and after-hours on-call emergency services.
Please take a look around our website and then give us a call at 410-777-8678 to set up an appointment. We're social! Follow us on Facebook, Twitter, and Pinterest for all the latest updates!