When it comes to keeping our pets healthy and happy, we always want to go above and beyond to ensure that any issues they have can be caught early. If there comes a time when your vet suggests your pet get an ultrasound, you might wonder what that means and involves. At Alexander Animal Hospital, we know that any potential treatments put both pets and owners under stress and are not to be taken lightly. While ultrasound is a relatively non-invasive process, today, we want to walk you through the basics to help you have a better understanding.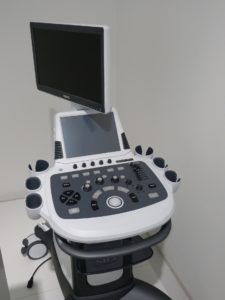 What Happens During An Ultrasound?
Ultrasounds are almost the same for humans and pets. An ultrasound machine uses sound waves to look into the body in a non-invasive way that is completely pain-free. The sound waves are sent out from the machine and bounce back, depending on the density of the tissue they encounter. The images this results in are a great way for your vet to see what's going on inside your pet's body. If your vet is concerned about organs like the gallbladder, kidneys, liver, spleen, bladder, or pancreas, an ultrasound is a great option. Ultrasounds are not as in-depth a process as something like an x-ray, but it gives your vet a good picture of fluid-filled organs and the abdomen to decide if further testing is needed.
Why Does Your Pet Need An Ultrasound?
There are many reasons why your pet might need an ultrasound, all of the varying severity levels. One of the most common conditions an ultrasound is used to diagnose is Pancreatitis, a common issue that can be serious if left untreated. Some cancers can also be caught through ultrasounds as well as liver some types of disease, infected gallbladders, and even inflamed prostate glands. In short, your vet will use ultrasound as the first step in diagnosing a variety of complex cases, which is why it's an invaluable aspect of veterinary care.
We Would Love the Opportunity to Care for Your Furry Friends!
Alexander Animal Hospital is a full-service animal hospital located in Severna Park, Maryland, serving the Severna Park, Pasadena, and Arnold Areas. Our goal is educating clients on the needs of their pets and understanding the importance of individualized veterinary care in order to strengthen the human-animal bond between owners and their pets.
We understand you have a choice when deciding on the care for your pets, and we strive to provide you with unparalleled services including wellness exams, vaccines, lost pet microchip ID, dental care, surgical services, digital radiography, and in-hospital laboratory services and diagnostics. Other highlights of Alexander Animal Hospital are the separate cat and dog waiting and exam rooms, as well as after-hours on-call emergency services.
Please take a look around our website and then give us a call at 410-777-8678 to set up an appointment.
We're social! Follow us on Facebook, Twitter, and Pinterest for all the latest updates!